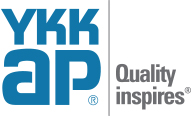 YKK AP designs, creates and manufactures aluminum fenestration systems. The YKK AP commitment to quality provides users with high-end products that provide greater value and efficiency. YKK AP is a global company that operates at a local level, allowing us to leverage the resources of an international company while keeping the personal relationships of a local branch.
Thermal Storefront

Non-Thermal Storefront

Entrance Doors

20D / 35D/ 50D - Standard Commercial Entrances

Entrance systems by YKK AP offer an abundance of design options. VersaJamb®, our unique reinforced tubular door frame, allows for side-lite glazing without shear clips while maintaining the structural integrity of transom frames. Door corners are mechanically joined and welded to ensure that they are more than capable of withstanding today's most demanding conditions. Custom entrances are available with options for one inch glazing, mid rails, high bottom rails and will accommodate most custom hardware.

20D - Narrow Rail (2")

35D - Medium Rail (3.5")

50D - Wide Rail (5")

---

MegaTherm® 35XT / 50XT - Advanced Thermal Commercial Entrances

Available in both a medium (35XT) and wide (50XT) stile, MegaTherm Commercial Swing Doors are thermally broken using our MegaTherm polymer. This polymer provides excellent energy efficiency and condensation resistance using a non-conductive barrier, which expands and contracts at the same rate as aluminum, allowing the door to retain its integrity through wide temperature fluctuations. All of these qualities make a MegaTherm XT entrance a prime candidate for buildings, requiring LEED certification.

The MegaTherm feature gives the designer the option of having different finishes (1) or colors on the interior and exterior side of the doors. Coupled with the mechanically joined/welded door corners and an extensive array of hardware options, this entrance system is highly versatile and durable.